Master of Liberal Arts
Request Information
Earn the Thought-Provoking Master of Liberal Arts Degree
Engage in a flexible learning experience that broadens and deepens your knowledge with the Master of Liberal Arts (MLA) degree from Johns Hopkins University's Advanced Academic Programs division. On a convenient schedule, study rigorous interdisciplinary coursework that draws from the humanities, social sciences, and natural sciences. The program thrives on the curiosity, passion, and diversity of its students. Moreover, it is designed to serve independent thinkers from a variety of academic, professional, and personal backgrounds. This MLA degree offers:
Flexible online option in a part-time format that blends around your personal and professional commitments.
A rigorous interdisciplinary liberal arts education with a flexible curriculum to serve independent thinkers.
An expansive educational experience for passionate, curious professionals from a variety of backgrounds.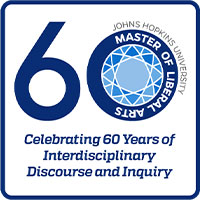 Fast Facts
Duration

18 – 24

Total Credits

30

Course Delivery

Online and On-Site

Ranking

Top 10
Coursework
You can customize this 10-course program to further your personal and professional interests. In addition to one core course and a capstone experience, you will select from a variety of interdisciplinary electives, including:
The Six Degrees of Miles Davis
The Mind of Leonardo da Vinci
Black Queer History
Gender and Media
Fakes, Lies, and Forgeries: A History of "Fake News" from the Flood to the Apocalypse
Medieval England: From Beowulf to the Battle of Bosworth
Deep Ecology: Environmental Ethic
Philosophy of Beauty
Critical Theory
Race and Jazz
"When the Lamps Went Out": WWI as History, Memory, and Commemoration
Social History of Medicine
What is History?
Ways of Knowing: Historical and Epistemological Foundations of the Liberal Arts
To further customize your academic experience, you can choose the format of your capstone project. Options include a graduate project such as a thesis or creative work, an internship, or a portfolio.